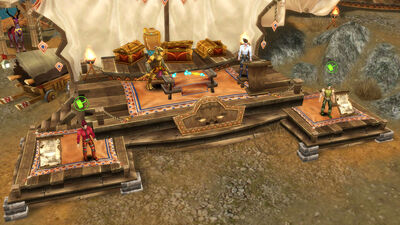 The Black Market (BM) is a daily Auction with randomly generated rewards that players can bid against each other to win items. It often has valuable items that are otherwise rare or hard to obtain in game, as well as items you can otherwise only buy with Runes or win in Events (such as Riding Permits, Mounts, Profession Slabstones, etc.) It is located in The Great Desert and has its own teleport. Players can also teleport here for free by speaking to Ethenun in Observer's Market in Greenmont.
Two auctioneers in the Black Market will sell 4 items per category (items purchased for Gold, and items purchased for Hero Emblems) during a lapse of 24 hours (real-time). You will have to pay attention to offer your bid for the item you want, but beware, the money you spend on the bid will not be recovered until someone else outbids you, so plan your purchases carefully![1] The Black Market ends and refreshes its rewards everyday at PvP/lotto reset time. At the end of each cycle, all the winners are announced to the server, along with the item that they won.
A list of current and previous items in the Black Market can be found here.
The Black Market was introduced in Update 19[2] on April 30, 2014 for iOS and May 13, 2014 for Android.[3]
View Bids
Edit
To view Bids on an item, select the green box under the item labeled Current Bid. This will open a box showing Current Winner, Current Price, and the option to Place Bid.
To view the Bidder List, select the box labeled Current Winner, and all previous bids with the bidder's name and amount appears.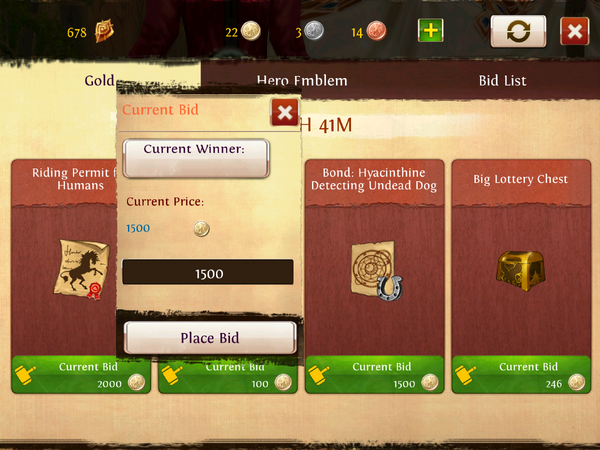 Refresh/Update Current Bids
Edit

At the top right of the Black Market screen is a white box with two arrows going in a circle. This is the refresh button. Hitting it will automatically refresh the screen to show current bids. You may need to refresh before placing a bid, especially on higher traffic servers.
The number above Place Bid is what your bid will be. It can be edited to a higher amount, but the price shown is the lowest bid you can make. Selecting Place Bid will automatically bid for you, there will be no confirmation.
At the top of the Black Market page shows the Time Left to place bids. When it reaches 0m (0 minutes) it technically means 1 minute left.
Failed bids occur when another player has already bid higher than you, in the time it took you to try and bid. This happens frequently in the last 10 seconds before the Black Market rewards are refreshed due to players spamming their bids.
References
Edit
Community content is available under
CC-BY-SA
unless otherwise noted.