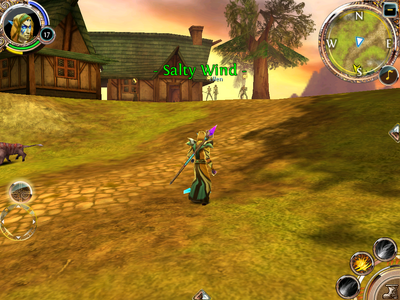 Salty Wind

Region

Yes

Yes

Yes

Food Shop?

Yes

No

Yes

Buyback Merchant

Yes
Salty Wind is a small camp at the very southern-most point of Tear Coast. It exists almost entirely to provide quests to players in the mid-teen level range. Near Salty Wind, there are a few elites.
Just outside Salty Wind there are some creatures that may pose a great threat to players under about lvl 14. 
some of the mobs that spawn next to salty wind are.
Foul Shadow Bringer (lvl 17)
Rotting Imp (lvl 17)
Forest Boar (lvl 13-15)
There is one large enemy that spawns in that area Called the "Nightmare Maker"
It is level 20 but has a weak attack despite its impressive size. It walks around and will attack anyone within a radius of about 3m.
Husta
Olivia, Haralier
Albert
Cora
Sherry Beena
Shopping
Edit
Potion; mana and healing
Food
Burning Blade Wine - quest item
Bundle of Red Roses - quest item
Here is a list of the quests that can be started in Salty Wind. Includes a brief description and walk through.