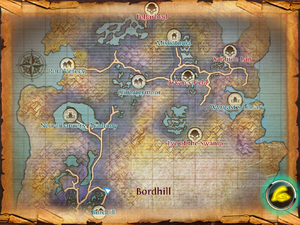 Swamp of Wyrms is a level 20-30 region north of Tear Coast.
It is not accessible on foot, but players can teleport from any Teleport Master, or from Eversummer Port (The Whispering Islands) to Port Verecy or vice versa (free).
To get to Swamp of Wyrms from Tear Coast, players can use the teleport at Old Oak Mine or any other teleport.
Features
Edit
Main town: Glimmermoor
PvP zone: Arkan's Field
Dungeons: Relic's Key and Rising Flare: Chasing Shadow
Swamp of Wyrms is the first region players will encounter trappable mounts.
Areas in Swamp of Wyrms
Hostile Arkan's Field • Eoltarblod • Eye of the Swamp • Saithion Lair


Friendly Bordhill • Glimmermoor • Miskatonia • Necromancers' Academy • Port Verecy • Wyrgast's Library
Misc Dunwichmoor • Fealu Plains • Foggy Coast • Forgotten Valley • Frog Swamp • Owl Wood • Siithrax
Storm Cape • Waterfalls Basin
Dungeons Relic's Key • Rising Flare: Chasing Shadow